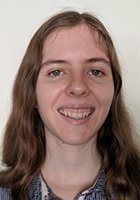 Viola
Certified Tutor
I am a graduate of Princeton University. I received my Bachelor of Arts in Neuroscience with a minor in Applications of Computing. I am currently a graduate student at Yale University studying for a PhD in Cognitive Psychology. I have had previous experience mentoring undergraduate students while in Princeton.

I tutor a variety of subjects, including Math (ranging from Pre-Algebra to AP Calculus BC), Psychology, Neuroscience, R and Python Programming, and test prep, including the SAT, ACT, and GRE.

I am the most passionate about tutoring Math subjects as it forms the foundations for understanding the sciences. I firmly believe in education being accessible to all and I want to instill critical thinking and learning for the sake of learning in my students.

In my spare time, I enjoy reading, hiking, drawing, and doing programming projects.
Test Scores
ACT Composite: 35
ACT English: 34
ACT Math: 36
ACT Reading: 34
ACT Science: 36
SAT Composite (1600 scale): 1580
SAT Math: 800
SAT Verbal: 800
SAT Writing: 750
GRE: 331
AP Biology: 5
GRE Quantitative: 166
GRE Verbal: 165
AP Chemistry: 5
AP Calculus AB: 5
AP Calculus BC: 5
AP Statistics: 5
AP Physics B: 5
AP English Literature: 5
AP English Language: 5
AP World History: 4
SAT Subject Test in Chemistry: 800
SAT Subject Test in Physics: 760
AP Computer Science A: 4
AP Psychology: 5
GRE Analytical Writing: 4.5
Hobbies
Reading, hiking, drawing, programming