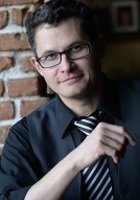 Kainoa
Certified Tutor
Having taught in both large and small classrooms from the junior high to university level for over twenty years, I know that the best learning occurs during one-on-one interaction. My favorite educational experiences have always been seeing a particular student have that "ah ha" moment when a challenging concept is mastered or the perfect word is discovered. Whether it's understanding subject matter like vocabulary or grammar or producing written argumentation, students always excel when a tutor addresses the student's particular requirements and skills. That's exactly the advantage I strive to give my pupils.

My background in helping student writers is extensive, from teaching creative writing classes to working on everything from junior high papers to college admission essays to doctoral dissertations. Spending ten years at the University of Delaware in the English and Theatre Departments, I developed writing programs as well as taught almost all the subject matter courses the English Department offered. While I have a deep connection to literature (especially from the nineteenth century), I also have a background in technical writing that I picked up through my other obsession, which is performance magic.

I enjoy sharing my passion for learning and mastering communication skills with others and am eager to share it with students who are ready to excel.

Hobbies
Reading, writing, and magic....not usually in that order.
Tutoring Subjects
American Literature
AP Comparative Government and Politics
British Literature
College Application Essays
College English
College Level American Literature
Comparative Literature
Elementary School Reading
Elementary School Writing
High School English
High School Level American Literature
High School Writing
Introduction to Poetry
Middle School Reading
Middle School Reading Comprehension
Middle School Writing
Other
Study Skills
Study Skills and Organization