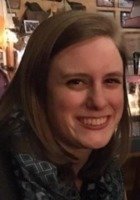 Katherine
Certified Tutor
The two highest levels of Blooms Taxonomy are evaluation and creation-- the two skills most necessary for writing well. To put it bluntly, writing is hard. It's my hope to help you improve your writing, regardless of your skill level. I truly believe that anyone can learn to write well.

In addition to writing, I'm also qualified to tutor test prep, particularly ACT, SAT, and PSAT. In test prep sessions, I like to begin with one or more diagnostic tests and then create a plan for the remainder of our time together. It's always my goal to make the best use of your time, so I encourage students to tell me what they'd like to work on. This not only ensures that the lesson is relevant, but also allows the student to take ownership of the learning process.
Test Scores
ACT Composite: 31
ACT English: 35
ACT Reading: 34
GRE Verbal: 163
PSAT: 218
Hobbies
Reading, writing, traveling, sampling new foods, Irish folk music, swing dancing and two stepping.
Tutoring Subjects
ACCUPLACER Language Use
ACCUPLACER WritePlacer
Adult Literacy
American Literature
AP English Language and Composition
British Literature
Business
Business Writing
CLEP Prep
CLEP American Literature
CLEP Analyzing and Interpreting Literature
CLEP College Composition
CLEP English Literature
College Application Essays
College English
College Level American Literature
Comparative Literature
COMPASS Reading
COMPASS Writing Skills
Composition
Elementary School
Elementary School Math
Elementary School Reading
Elementary School Science
Elementary School Writing
Expository Writing
Florida EOC Assessment Prep
GED Reasoning Through Language Arts
High School English
High School Level American Literature
High School Writing
HSPT Language Skills
HSPT Reading
HSPT Verbal
IB Language A: Language and Literature
ISEE-Lower Level Reading Comprehension
ISEE-Lower Level Verbal Reasoning
ISEE-Lower Level Writing
ISEE-Middle Level Reading Comprehension
ISEE-Middle Level Verbal Reasoning
ISEE-Middle Level Writing
ISEE-Upper Level Reading Comprehension
ISEE-Upper Level Verbal Reasoning
ISEE-Upper Level Writing
MAP Prep
Middle School Reading Comprehension
Middle School Science
Middle School Writing
OLSAT Prep
Other
PCAT Verbal Ability
PCAT Writing
SAT Subject Test in Literature
SAT Subject Tests Prep
Spelling Bee
STAAR EOC Prep
Study Skills
Study Skills and Organization
World Literature