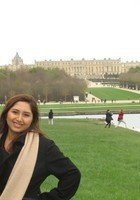 Ximena
Certified Tutor

I want to tutor because I love caring for people and I am compassionate. I believe that each person has particular moment or event that shapes them into who they will become in their life. When I was young my uncle who is a physician in Peru helped children on the street that were injured and covered their medical expenses. I didn't quite understand entirely at the time, but this simple act of generosity would have a tremendous impact in my life. As I have grown older this desire has become stronger and has been an important predictor of my academic choices.

When I reflect, I realize a great multitude of events culminated my decision to pursue a graduate school degree. The strongest influence was volunteering at Shepherd's hope. Throughout my volunteering experience I was able to help patients in their greatest time of need. I would make sure they would feel comfortable and have a sense of hope of recovery . As I volunteered, it I felt right working with patients. I practiced as a Certified Nurse assistant and I realized that I can communicate things correctly to patients and try to help them as much as I can.
Communication is key in health care and I know that I carry that quality. I constantly have to communicate with physicians at Shepherd's Hope in order to help the patients be correctly triaged and have to constantly communicate with patients in order to find out their symptoms and how long this has been affecting them .I work at Florida Hospital and I have to constantly have to communicate with different kinds of staff such as nurses and physicians in order to troubleshoot problems. I am able to adapt from a small environment such as Shepherd's Hope office to hospital institution such as Florida Hospital.

Hobbies
Traveling, Excersing, Drawing, Coloring