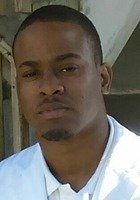 Cordell
Certified Tutor
I'm passionate about helping students because I'm passionate about helping people. I have a cognitive disability and despite not having good short term memory, I'm able to leverage my long term knowledge in everyday life, to still function successfully. I grew up in an environment where I was taught that the value of knowledge can be gained or shared from those around me. I'm a social work major and believe that the groups of people most often left unaided are the younger generations and slightly older generations as in the senior citizens.

I've worked over the years with nonprofits, charities, after school programs, and youth mentoring groups. I gained my current level of education, recently a Kennedy-King College A.S. graduate, attended Robert Morris University, and currently on track with 90% completion of my B.S.W. at Governor State University and will start the Masters in Social Work next year 2020.
I also have Expert certifications in Microsoft Office Expert (Word and Excel 2010). I can tutor a range of subjects, including, but not limited to: English Writing, Reading, Government History, Politics, Biology, Speech, Microsoft Office, and Computer technology. My favorite subjects to tutor are writing, speech, and government. Writing and speech involve characteristics that show the strength of a person's character that may not be instantly perceived on the surface. With government, it's interesting learning the methods laws that are established and impacts they have on its citizens. No matter how far a person goes in life there's always something new that can be learned. Adults can even learn from the youth just as we all learn from our elders.

Growth only comes when you can admit to being weak in some areas and knowing when you need help. I encourage students to ask questions as many times as needed despite anxiety about sounding foolish or redundant, their personal understanding is more valuable than the thoughts of their peers around them. I have a personal disability and despite it, I can help encourage others to advance to new levels. Having a disability is just like having a different kind of motivational spark.

I have a teaching style that empowers individuals to learn concepts that can be applied to similar problems. I recognize diversity and understand some students are visual, kinesthetic, and/or audio learners. I can connect students to the material by explaining the areas with the most confusion with significant patience.

I have various ways to spend my time when I'm not contributing to my own knowledge and those around me. I serve regularly at my church during the week. I like to play sports and workout at the University of Chicago Athletic Centers, as well as play strategy/puzzle/sports games on various game consoles. In addition, I like to watch comedy sketches regarding politics and current events.
Hobbies
I attend church services and like going to bible study, play basketball, workout, read and play strategy video games.
Tutoring Subjects
College Application Essays
College English
College Political Science
High School Biology
High School Political Science
Microsoft Office
Other
Political Science
Social Sciences
Technology and Coding