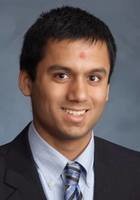 Dharmesh
Certified Tutor
Hi! I am an enthusiastic, hard working sophomore at the University of Michigan in Ann Arbor, MI. I am studying Biomedical Engineering and aspire to become an oral surgeon. In my free time, you will find me at the gym, running, playing basketball, and lifting weights. I believe exercise to be a fantastic stress reliever and motivator. I have over 250 hours of tutoring experience and am excited to tutor students with their homework or with test preparation. I recognize education is the gateway to a better living, so rest assured, I will make every effort to teach students the concepts, so they can apply their knowledge to unique situations. In a world of increasing automation, it is critical students are versatile and can adapt to new situations on the fly. To that end, I will teach them how to solve a problem rather than state the solution to the problem. Often times, students use my guidance to arrive at the solution themselves. This gives students confidence and sharpens their understanding. I will also motivate my students whenever necessary to keep them excited about learning Chemistry or Calculus. Some concepts can be tedious to learn, so it is important to never lose sight of its real world application. I look forward to tutoring my students and helping them reach the next level! Please feel free to reach out!
Dharmesh's Qualifications
Test Scores
ACT Composite: 33
ACT English: 33
ACT Math: 34
ACT Reading: 32
ACT Science: 31
Hobbies
Tennis, basketball, lifting weights.
Tutoring Subjects
College English
High School English
High School Physics
Mac Basic Computer Skills
MATLAB
Middle School Reading
Middle School Reading Comprehension
Middle School Writing
SAT Subject Tests Prep
Technology and Computer Science
---