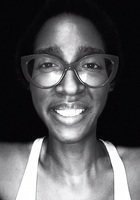 Porscha
Certified Tutor
Hi! I am really excited to be a varsity tutor. My favorite subjects are probably Math and History. I dig anime and art. It's going to be really fun to work with you.

I specialize in special education environments. I work as a tutor for foster youth in CUNY colleges currently and have also worked in high school as a resource specialist as well as in Montessori settings as well. I have worked with many students who are classified ELL/ESL. I also have about 15 years experience with all forms of learning disabilities, especially students with ADD/ADHD and Autism. I can work however with anyone who feels like they need something alternative to a traditional learning setting. Learning with me will be fun and productive.

I am a phenomenal guide for boosting your scores on the ACT, SAT, PSAT, CHSPE, SSAT, ISEE, GRE, GED, CSET, and CBEST exams.
Hobbies
homesteading, anime, music, reading, cooking, drawing, learning, teaching
Tutoring Subjects
6th Grade AP Language Composition
Adult ESL/ELL
Adult Literacy
Advertising
African History
African-American History
American Literature
American Sign Language
Ancient and Medieval Heritage
AP Computer Science Principles
AP Music Theory
AP Studio Art: 2-D Design
AP Studio Art: 3-D Design
AP Studio Art: Drawing
Art
Audio Engineering
Audition Prep
Basic Computer Literacy
British Literature
Business
C#
CBEST - The California Basic Educational Skills Test
Ceramics
Classics
College Application Essays
College English
College Level American Literature
College Math
Comparative Literature
Concurrency
Cooking
Cosmology
CSET - California Subject Examinations for Teachers
CSS
Drawing
Elementary School
Elementary School English
Elementary School Math
Elementary School Reading
Elementary School Science
Elementary School Writing
Ethics
Expository Writing
Fiction Writing
Genetic Engineering
Handwriting
High School Business
High School Computer Science
High School English
High School Level American History
High School Level American Literature
High School Political Science
High School World History
High School Writing
HTML
Human Development
Hyper-V
IB
IB Biology
IB Business & Management
IB Classical Languages
IB Computer Science
IB Design Technology
IB Economics
IB Film
IB Global Politics
IB Information Technology in a Global Society
IB Language ab initio
IB Literature and Performance
IB Mathematics: Analysis and Approaches
IB Mathematics: Applications and Interpretation
IB Music
IB Philosophy
IB Psychology
IB Social and Cultural Anthropology
IB Visual Arts
IB World Religions
International Business
Introduction to Fiction
Introduction to Poetry
Journalism
Latin 1
Latin 3
Latin 4
Latin America History
Logic Pro Software
Mac Basic Computer Skills
Medicine
Microsoft Excel
Microsoft Office
Middle School English
Middle School Reading
Middle School Reading Comprehension
Middle School Science
Middle School Writing
Music
Music Recording
Music Theory
Non-Euclidean Geometry
Other
Painting
Paleontology
Parallel Computing
Pascal
Pathology
Pathophysiology
PC Basic Computer Skills
Perl
Personal Finance
Pharmacology
Philosophical Ethics
Photography
Photoshop
Plant Biology
Political Science
Portuguese
Printmaking
Pro Tools Software
Professional Certifications
Quantum Theory
Ruby on Rails
Social Networking
Social Sciences
Social Work
Software
Special & General Relativity
Special Relativity
Spelling Bee
String Theory
Study Skills
Study Skills and Organization
Technology and Coding
Theatre
Urban Design and Development
US Constitutional History
Virology
Visual Arts
Visual Basic
World Civilization
World Literature
Zoology