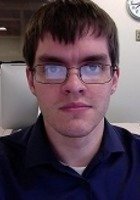 Casey
Certified Tutor
I received my bachelor's degree in Physics and my Master's degree in Teaching from Austin Peay State University. I am currently working towards a Master's degree in Database Analytics.

My favorite subject is Physics and my favorite tool is Math. I am very comfortable with both and have been teaching both to high school students for four years.

I tutor because I enjoy teaching. A teacher simply cannot teach a group of thirty students to the same level and depth of knowledge as they can when teaching one on one.

I tutor for comprehension. Rather than teaching students how to solve specific problems, I focus on developing the skills, knowledge, and strategies for solving problems that you have never seen before. My goal is to ultimately enable you to do the work by yourself without my input, even if the problem is completely new and unexpected.
Test Scores
GRE Quantitative: 168
GRE Verbal: 161
Tutoring Subjects
College Physics
High School Physics