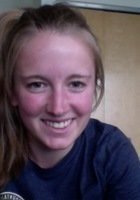 Callie
Certified Tutor
I am an undergraduate student at The University of Chicago who received my high school diploma from Rowland Hall in Salt Lake City, Utah. I am excelling in all my pre-med requirements. I am not completely sure of my major, but I am leaning towards a HIPS (History, Philosophy, and Social Studies of Science and Medicine) major and a French minor. I tutored a girl, middle school through high school, in any subject she required. It began as only math, but I soon began to tutor her in her science classes, especially helping her study, math, English, and French. I was able to help he raise her average grade from a C to a B+. I also have a younger sister, so while I wasn't her "tutor," I helped with a lot of math and writing homework and studying. I provide lots of practice problems, and I like to let the students lead the sessions as much as possible. I view my role as refocusing or guiding, but not pushing and telling. I hope to help students find study and homework habits that fit them rather than imposing my favorite ways upon them, though I will share any advice I have. Outside of school, I enjoy running, baking,, reading (from books like Harry Potter to Erasure) and exploring nature. Having lived in Salt Lake, I grew up with the outdoors as my main entertainment, though moving to Chicago has definitely increased my appreciation for the opportunities in a big city.
Education & Certification
Undergraduate Degree: University of Chicago - Bachelor in Arts, History and Philosophy of Science and Technology
Hobbies
I enjoy running (trail or road), reading, baking (then eating those baked goods), exploring nature, and walking my big, adorable goldendoodle. I am very interested in health care, so I like volunteering at my local children's hospital. I also enjoy ethics, history, and literature, especially when all three subjects intertwine. I am also a huge fan of sleeping, as are most college students I know.
Tutoring Subjects
AP English Language and Composition
Elementary School Math
Elementary School Science
Elementary School Writing
French 1
High School Biology
High School Chemistry
High School English
High School Writing
Middle School Science
Middle School Writing