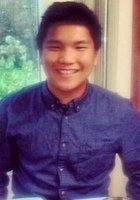 Kevin
Certified Tutor
Eager and enthusiastic, I have lots to give, lots to teach, and lots to bring to a student. I believe that comprehensive tutoring, working towards full understanding in the material and practice is key.

A little about me...
I am a college student at the University of Illinois at Chicago double majoring in biology and political science. As someone who went to large high school, I understand that it falling behind and dropping from where you want to be can happen in an instant. That is why I chose tutoring; it is fulfilling opportunity to help someone reach their academic and intellectual potential.
Hobbies
Public Health Research, Rugby, Pencil Sketiching