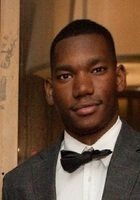 Yurum
Certified Tutor
Up until recently Theoretical Physics was my main passion and the only thing I was focused on, but I fell in love with business model design and as such I am currently in the process of starting my own company. I am dedicated to creating the foundations of knowledge and possibilities that may one day trigger a new wave of human knowledge and human experience.
Test Scores
SAT Composite (1600 scale): 1170
SAT Mathematics Level 2: 700
Hobbies
Business Model Design, Entrepreneurship, Mannequin Art, Writing, Japanese Culture, Physics, Mathematics, Psychology, Music, Dancing
Tutoring Subjects
College English
College Physics
High School Physics
Portuguese
What is your teaching philosophy?
Building a foundation or the basics for a subject while helping the student develop a passion for the subject and the feeling of satisfaction that comes from solving a problem.