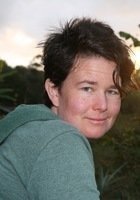 Elsie
Certified Tutor

My experience with secondary education began at Fountain Valley School in Colorado, a private boarding high school where I gained many skills that prepared me for a successful undergraduate experience at Tufts University and my masters at Cornell University. I double majored in International Relations and Spanish at Tufts University for my B.A., and after three years in the Peace Corps I went on to receive my master's degree from Cornell University in International Agriculture and Rural Development.

Since I first took the SSAT as an 8th grader I have always enjoyed standardized testing, something that set me apart from most of my classmates. From the PSAT to the ACT, SAT, and GRE, I have found the tests to be like games that needed solving, and this is what I like to share with students. Standardized tests present clear goals for students to achieve, and I am encouraged with the amount of progress that can be made by preparing for the tests and having a strategy for tackling each section.

In addition to tutoring for standardized tests, I really enjoy Spanish language tutoring. Language learning has always been my fun class, and since studying Spanish I have gone on to study French, Malagasy (native language of Madagascar), and Hindi. All of this experience as a language student has allowed me to explore different teaching styles and to really understand what are the steps that need to be taken to master a language. English was always a fun subject for me, although I never imagined myself an English tutor until I joined the Peace Corps and realized how wonderful it is to work with English learners and watch their progress. Not only do I enjoy tutoring non-native speakers, but I find that I have a way of teaching writing that can help students to feel more confident when confronted with a blank page in front of them.

My teaching philosophy is student-centric, following the belief that each person has a unique learning style and that my job as a tutor is to mold to that style. Nevertheless, there are some core elements to my teaching style that I am likely to use with students. The first goal for me is to engage with learners by having a positive attitude and making learning fun. When learning is engaging and fun, I find that the material is more memorable and some of the stress of testing is removed, and to this end I try to incorporate games as much as possible. I like to give the students ample space to show me what they do already know, something that is illuminating to me as a tutor and also frequently surprises students with how much knowledge they already command. When learning new material, I prefer an in-depth approach that will look at the same idea from multiple angles. This is helpful, especially for younger learners, as a way to reinforce learning and also to check and make sure that the concept is fully understood. I find that connecting the new material to real-world circumstances or current events can be a useful tool, especially for students who find it a challenge to stay motivated when material is perceived as irrelevant. Overall, I am very flexible and I enjoy meeting the student at their current level and making progress from there.

When I am not tutoring I am planning/planting my garden and battling the many pests that our damp weather brings, or on a hike in the mountains with my sister. On colder days I keep my hands warm by knitting hats for friends and family. My new winter project is to tackle shoe-making so that I can finally have a truly custom-fit shoe. So far I have managed one pair of sandals, but this summer I expect to be trying out a few new models I'm working on.

Education & Certification
Undergraduate Degree: Tufts University - Bachelors, Spanish; International Relations
Graduate Degree: Cornell University - Masters, International Agriculture and Rural Development
Hobbies
Traveling, learning new languages, gardening, and shoemaking.
Tutoring Subjects
Adult ESL/ELL
Adult Literacy
American Literature
College English
College Level American Literature
Conversational Spanish
High School English
High School Writing
ISEE-Lower Level Reading Comprehension
ISEE-Lower Level Verbal Reasoning
ISEE-Lower Level Writing
ISEE-Middle Level Verbal Reasoning
ISEE-Middle Level Writing
ISEE-Upper Level Verbal Reasoning
ISEE-Upper Level Writing
Middle School Reading Comprehension
Other
Spanish 1
Study Skills
Study Skills and Organization
How would you help a student get excited/engaged with a subject that they are struggling in?
I would find out other interests in their life and find a way to make the difficult subject more relevant to those interests.
What techniques would you use to be sure that a student understands the material?
I would offer a similar problem or question that used the same techniques but differ in content. Additionally, I would ask for an explanation in their own words, or for them to explain it to a younger sibling or friend. Explaining a newly learned concept is one of my favorite tools for reinforcing ideas.
How do you build a student's confidence in a subject?
I like to break things down into simple pieces, allowing students to gain confidence one step at a time. As their skill grows, pull together more pieces until they feel confident in the whole. One technique I find useful is to put the subject or problem in the form of a game, because when students are having fun the stress from a difficult subject is reduced.