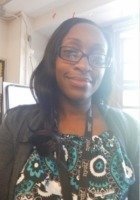 Tamika
Certified Tutor
I graduated cum laude from York College, City of New York as well as Pace University. My undergraduate degree is in Psychology and my Master' Degree is in Education.

I have six years teaching experience in self contained and inclusion settings. In order for students to reach their maximum potential, I facilitate opportunities for small group instruction that focus on specific skills.
The last four years have been dedicated to full time teaching as well as tutoring. I conducted individual and small group sessions to prepare elementary students for state exams. I've also held one to one sessions to strengthen students abilities in academic areas.

As an educator, my mission is to educate children while helping them develop as lifelong learners. I believe in educating the whole child. As a special educator in inclusion settings, I firmly believe in supporting students through hands on learning activities, building relationships, and creating a comfortable environment in which mistakes are learning opportunities. Children should learn in meaningful ways allowing them to build connections to previously learned concepts. Every child no matter their ability has thee capabilities of being successful.

I strongly emphasize the notion of respect. I encourage my students to keep respect at the forefront of all conversations and interactions. I model this practice by respecting learners and taking their learning abilities with high regard. I prioritize planning sessions to transform students weaknesses into strengths.

I strive to help students foster a love for reading and build on their imagination. I want students to experience how simply reading a book can take them places they may never experienced physically and express their voice in writing. Mathematical concepts can be very abstract but applying these concepts in ways best suited to learning styles leads children on the path to success.
Hobbies
Hobbies and interests include reading, playing the piano. Cooking. Traveling – Exploring different cultures. Exercising.Dancing. Painting.
Tutoring Subjects
College English
Elementary School Math
High School English
Homework Support
Other
Study Skills
Study Skills and Organization
What is your teaching philosophy?
Educate the whole child and turn children's weaknesses into strengths. All children have the ability to make gains in all academic areas.
What might you do in a typical first session with a student?
I would assess the student's academic abilities, as well as learning style, to measure the best way he/she receives new information.