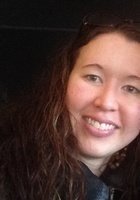 Katelyn
Certified Tutor
I have been in the teaching field now for almost eight years. I love working with children and knew I wanted to be a teacher from the age of five! Over the years, I have been a babysitter, a camp counselor and finally a teaching assistant and then teacher. I have experience working with children from the ages of four through grade 5. I have spent time teaching AIS math and am well-versed in Teacher's College Reading and Writing workshop. I have worked with children of all ability levels and with a variety of special needs. I think that learning should be fun and exciting and will work tirelessly to make sure my students feel that way about their education.
Hobbies
Reading, cooking/baking, cross-stitching, gardening
Tutoring Subjects
College English
Elementary School Math
High School English
Homework Support
Study Skills and Organization
Summer
What is your teaching philosophy?
"No written word, nor spoken plea can teach young minds what they should be. Not all the books on all the shelves -- but what the teachers are themselves." Rudyard Kipling There are many teaching philosophies that already exist. I don't have any one in particular at which I can point and say, "That's my teaching philosophy!" Rather, as I have made my way through college and worked with many different kinds of teachers, I have collected various aspects of each of these philosophies and made them my own. Here is a brief glimpse at what I consider to be the most important bits of advice: A good teacher is a role model. She teaches her students how to be moral, well-rounded members of society. She understands that social skills are just as, if not, more important than academic skills. And she knows that it is not enough to preach compassion and manners to her students, she must live what she teaches. For where the teacher leads, the students will follow. A good teacher is a facilitator of learning. She expresses a contagious enthusiasm for all that she teaches. She, herself, is a continual learner and works to pass on that love of learning to her students. She understands that successful students have an intrinsic motivation to learn. She works to find and build on that motivation with each and every student in the hopes that they will love learning just as much as she does. A good teacher understands that each and every student is an individual and treats them accordingly. She knows that fair isn't always equal, and she adjusts her lessons to fit the needs of every student. She understands that if a student fails to understand what is taught, she will re-teach the topic and adjust her methods accordingly. She is constantly assessing her students for understanding and herself for effectiveness. A good teacher is warm and caring. She understands that school is a place of safety for all children. The classroom is a place where children are free to be themselves without judgement and criticism. The atmosphere of the classroom must be warm and welcoming, a place the children can call their own. All areas of the classroom must be easy to access and the room should be decorated with the students' work. A good education is the greatest gift we can give our children. They are our future, and it is up to the teachers of the world to make sure they grow into happy and healthy adults who are capable of running our country. Teachers have one of the most important jobs in this world. They must act as role models to our children and teach them to be the best they can possibly be. They must encourage their students' creativity and pass on to them a thirst for knowledge that will lead them to be lifelong learners. A good teacher's reach is never ending. As Henry Adams once wrote, "A teacher affects eternity; he can never tell where his influence stops."
What might you do in a typical first session with a student?
In a typical first session with a student, I would spend time getting to know them. It is important to know who they are as a student. For example, what is their take on school and how do they feel they are doing in subjects where they are struggling. It is also important to get to know their interests and likes and dislikes. This will allow me to create lesson plans that keep them engaged and wanting to learn more.
How can you help a student become an independent learner?
The best way to help a student become an independent learner is to foster a love of learning! Once you get a student excited about learning new things, the opportunities are endless!
How would you help a student stay motivated?
I would help a student stay motivated by creating a safe and welcoming learning environment where they won't be afraid to take chances and make mistakes. I would also try to connect our lessons to things they are interested in as often as possible. If needed, rewards such as stickers or a prize box are also helpful.
If a student has difficulty learning a skill or concept, what would you do?
If a student has difficulty learning a skill or a concept, I would continue to develop new ways to teach the concept until we found a way that made it click for the child.
How do you help students who are struggling with reading comprehension?
If a child is struggling with reading comprehension, it is important to look at multiple factors. Is the child having trouble with phonics and decoding? Is the content in the book above the child's level? In order to get better at reading comprehension, the child needs guided practice in books at both their independent and instructional levels.
What strategies have you found to be most successful when you start to work with a student?
I've found that one of the most important things you can do when beginning to work with a new student is to spend time to get to know them. Let them see that you care about them as a person, and they will trust you to teach them difficult skills.
How would you help a student get excited/engaged with a subject that they are struggling in?
In order to get a student excited and engaged with a difficult topic, I would try to connect it to their interests as often as possible. Also, finding different, interactive ways to teach a topic can be helpful as well.
What techniques would you use to be sure that a student understands the material?
I would use observations as we work together and questioning at the end of each lesson. The next time we met, I would start the session with review questions that covered old material.
How do you build a student's confidence in a subject?
The best way to build a student's confidence in a subject is to allow them to see their progress. Show them how many questions they are now getting right or let them compare books they were reading a few months ago to the ones they are reading now.
How do you evaluate a student's needs?
I evaluate a student's needs by using both formal and informal assessments. As I work with a child, I keep track of which skills they have mastered and which ones they still struggle with and use this information in the planning of future sessions.
How do you adapt your tutoring to the student's needs?
As I present a lesson to the child, I am constantly monitoring their understanding. If the lesson seems too difficult, I will take a step back and switch direction by reteaching an earlier skill. If the lesson is going very well, I will add in more challenging activities. I always come prepared with multiple levels of each activity.
What types of materials do you typically use during a tutoring session?
The materials I use depend on the topic being taught. I like to use a mix of paper and pencil, videos, computer games, and teacher-made games and resources to teach.