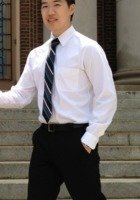 Jonathan
Certified Tutor
I am a graduate of the University of Illinois at Urbana-Champaign with Bachelors in Chemical Engineering. I have previously tutored students in college specifically in chemistry and calculus. If you have any hobbies you enjoy outside of education, let me know! I will try to cater to each student individually and make learning as relatable to you as possible.
Hobbies
I enjoy playing tennis. If you're interested, I am more than happy to play.
Tutoring Subjects
Chemical and Biomolecular Engineering
Chemical Engineering
College Chemistry
High School Chemistry
What is your teaching philosophy?
I think that if you can relate to something, you can learn it more effectively. I want to help be the bridge between you and your educational success.