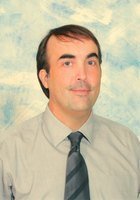 Christopher
Certified Tutor
I am an international English and humanities teacher from the United States. My career in teaching began in the New York City Public Schools teaching immigrant children to speak English. Coming from a family of teachers and scholars who were also immigrants, this seemed a natural pursuit. From an early age I read deeply in classic literature and American history and took a strong interest in discussions and debate. Modern history, current events, military affairs and public policy are keen interests of mine. At university, I attained degrees in history, teaching English as a second language and educational administration. Close to my affinity for learning is my love for sports: golf, tennis, biking and the active life. People describe me as learned, friendly, witty and compassionate. Learning with laughter, participation and purpose is my basic approach to education. Through teaching Cambridge, AP and IB English and humanities courses internationally, I have changed and gown professionally. The core of my being is a love of the life of the mind. I find education to be a continuing discovery of truth, development of pragmatic skills and relationship building.
Education & Certification
Undergraduate Degree: State University College of New York at Buffalo - Bachelors, History
Graduate Degree: Adelphi University - Masters, Teaching English to Speakers of Other Languages
Hobbies
Public speaking, politiics, history, tennis, golf, baseball, comedy, travel and jazz.