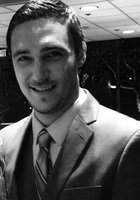 Joel
Certified Tutor
I completed my Bachelor of Science in secondary education with a major in integrated science and a minor in chemistry at Central Michigan University in 2009. I received my Master of Science in Educational Leadership-Principalship from Saginaw Valley State University in 2013.

Since completing my undergraduate degree, I have been employed as a full-time classroom teacher working with a variety of classes at multiple grade levels. Courses that I have taught include high school general chemistry, physics, and astronomy, as well as 6th and 7th grade general science and 6th grade crime scene investigation.

My passion for teaching science stems from a deep-seeded desire to understand the world around me. I recall having countless questions as a child about topics ranging from animal adaptations, atoms, and the universe at large. Discovering answers to these questions has always been an empowering experience for me, and I have found my calling in cultivating this curiosity within those I teach.

In my spare time, I enjoy coaching basketball (I am the head coach of a 9th grade basketball team during the winter months), playing sports (basketball, golf, tennis, etc.), and, of course, learning more about the wonderful world of science!
Hobbies
sports, science, current events
Tutoring Subjects
3rd Grade Science
Elementary School Science
General Chemistry
High School Chemistry
Life Sciences
Middle School Science
Physical Science
What might you do in a typical first session with a student?
In a first session, time must be spent getting acquainted with a student. It's important that I learn about a student's aspirations, strong/weak subjects, and likes/dislikes so I can fit lessons to the individual.
How can you help a student become an independent learner?
I can teach a student to become an independent learner in two ways. First, I can help them become better seekers of information. A simple web search can yield almost any information with the right direction. Second, I can help students break a big problem into a smaller problem. A systematic approach can allow a student to guide themselves to the answers that they seek.
How would you help a student stay motivated?
As a classroom teacher, student motivation is a topic that is always on my mind. I can help students stay motivated by keeping lessons interesting, to-the-point, and relevant to their daily life.
If a student has difficulty learning a skill or concept, what would you do?
In a situation where a student is having difficulty with a skill or concept, I ask specific questions to identify exactly where their thought process goes "off the rails." When I have an understanding of where their problems start, I then focus on that area with specific examples, questions, video clips, demonstrations, and hands-on activities. As soon as they demonstrate an understanding of one problem area, we use that to build toward a further understanding of the material.
What types of materials do you typically use during a tutoring session?
During a tutoring lesson, I use pictures, online quizzes, short reading sections, video clips, interactive games, etc. Depending on the lesson, I might use some or all of these.