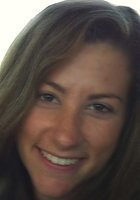 Jennifer
Certified Tutor
I am the kind of person who loves to have fun in any environment. I realize learning new information takes hard work and is often very challenging, but my experience as a Biomedical Science Masters student at The Commonwealth Medical College and a biology major at Wake Forest University has taught me that the best way to learn is to place yourself in a fun environment. As a tutor, I share this outlook on learning with my students by creating an engaging and gratifying environment conducive to the learning style of the individual with whom I am working. I am driven by my passion for science, English, writing, literature and Spanish. I am excited to revisit these academic interests as a tutor during my "gap year" before I attend medical school next year. Although I spend a lot of time with "my nose in the books," I pounce on any excuse to go outdoors during my free time. I play soccer and lacrosse, go rock climbing, hike, surf and white water kayak- but don't worry, not at all at the same time.
Test Scores
SAT Composite (1600 scale): 1350
Hobbies
Anything outdoors- hiking, running, soccer, lacrosse, kayaking, rock climbing.