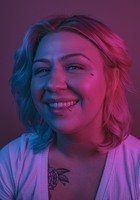 Sydnee
Certified Tutor
I am multi-faceted and ever-changing. I graduated from UNC-Asheville with a degree in Literature, specializing in Non-Fiction Creative Writing and minored in Psychology. I have experience as a content-writer/copy-writer and I consider writing one of my top art forms.
I have experience managing businesses and employees, meaning I am effective at time-management, delegation, prioritizing, and leading teams.
I furthered my education in trade school at AVEDA Institute at Chapel Hill and am a licensed and practicing Cosmetologist.
I love color and anything creative; it's a huge part of who I am and why I exist. I have taken art since kindergarten all the way up throughout college in almost all mediums. The ones I am strongest and most passionate about are dance, painting (mostly abstract), writing, and any sort of "making something look prettier than it was before".
I am a working artist, represented by ArtLifting and have taught others to learn how to get outside of the box we sometimes can be stuck in that deters us from limitless possibilities in art and life.
I have taught dance to as little as 1 student up to a full classroom of dancers, ages 2 and up.
I am very sensitive to students' needs and my teaching style is a hybrid style that molds to what works best for my student.

I believe everyone is capable of achieving their goals and a lot of how I teach also revolves around working on confidence, resiliency, having a beginner's mind, and having fun.

I hope that I will be able to help you achieve your goals and I trust my own teaching skills that you might have some fun along the way!
Hobbies
-Kitties (I have two, Moosh and Loaf) -Painting (There is paint on just about everything I own.) -Crocheting -Sewing -Yoga -Meditation -Writing -Dancing -Crafting -Reorganizing things -Learning -Anything water based -Gardening -This list could go on for a while, but those are some of the basics.
Tutoring Subjects
Art
College Level American Literature
Fine Arts
High School Level American Literature
High School Writing
Painting
Visual Arts