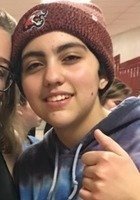 Alec
Certified Tutor
Hello! I am a Music Technology major at New York University passionate about broadening the music industry through innovative thinking. Artistically, my experience is in live vocal performance and freelance music production in the Northern Jersey area. In the past year, I have been holding music production tutoring workshops online to help beginners getting into music. In my lessons, I like to blend creative thinking with music theory and real world industry secrets. Through fun and engaging projects, my lessons can help students understand who they are as an individual artist while developing their production skills.

As a Music Technology major, my skills in audio production, engineering, music theory, aural skills, and music performance are excellent. I have four years of experience in live performance with my own band and have been a freelance music producer successfully for three. During this time, I have worked in several DAW softwares such as Logic Pro X, Ableton Live, and ProTools. Aside from my technical experience, I have written and produced film scores in an award winning film featured in the United Nations global film festival in 2017 and was later awarded a citation from the New Jersey State Assembly for extraordinary work.

My goal is to benefit my students in any way I can. Whether that means helping them become more confident in their performances or developing their foundation in music production, I want to give the students resources to succeed in the incredibly complex music industry. I am easy to reach and will always provide fast responses. Feel free to contact me any additional questions or to schedule a lesson!
Education & Certification
Undergraduate Degree: New York University - Bachelor in Arts, Music Technology
Hobbies
Outside of music, I enjoy filmmaking and screenplay writing. I am currently pursuing The Business of Entertainment, Media and Technology (BEMT) minor at New York University to help me pursue these hobbies of mine in my future career.
Tutoring Subjects
Music
Music Theory
Vocal Training
Voice