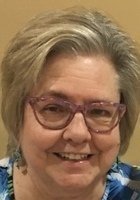 Cyclinda
Certified Tutor
Learning is a natural God-given process. All Children can learn if we get out of the way and let them show us how they learn best. We must become facilitators so they achieve their highest goal. We can guide and encourage the process. It is my goal to give students the chance to feed their curiosity and help them spread their intellectual wings and fly. I believe that teaching is a calling not just a job or career.

I am retired but have spent 50 years of my life educating young people. Most of my years were spent with elementary level students, more specifically in Math.

I have a degree in Music Education/Elementary Education. It has been a lifetime of joy and excitement for me. That is why I am still doing it.

Communication with parents is a must. Strong communication skills help both of us help your child to learn, retain and succeed.

It would be an honor and a privilege for me to help you help your child by being their tutor. I believe that learning is hard work but can and should be fun and rewarding for all students.

Thank you for considering me to be your child's tutor.
Hobbies
Hobbies and interests for me are free-time stress releasers. I am a musician and play the piano. I can have a stressful day snd sit at my piano playing many of my favorite songs and my stress just melts away. I enjoy concerts and plays. And...until the last few years have enjoyed singing in my church choir. I also am an avid listener to all kinds of music. Music provides color to my days. I love knitting, especially during the cold winter months. I also am a reader. I love to read, mostly fiction mysteries. The more intriguing the better. I have been know to read as many as 100 books in one year. In the warmer weather, I love to be outside, gardening or just relaxing by or in my pool, a good book in my hands. I am a lifelong learner. Not a day goes by that I don't learn something new. It doesn't matter how much or how little the learning is, just that I am learning.