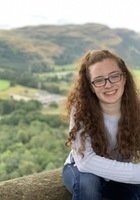 Emma
Certified Tutor
I am currently in my second year at the University of Kansas. I am majoring in secondary history and government education and minoring in art history. Most of my tutoring experience comes from high school, where I peer tutored a student in her world history class. As an upperclassman, I also gained a lot of mentoring experience on my school's debate team as I helped new debaters learn the ropes of the activity. As my intended college degree reflects, I am most excited about teaching history, government, and art history classes, but I have a strong background in English as well. As a former AP and honors high school student, I would love to share the strategies that I found to be the most successful. I believe education not only improves society, but can help shape students to their fullest potential. I would love to be someone who facilitates that development. Outside of academics, I am a total bookworm, my favorite TV show is The Good Place, and I try to spend as much time outside as I can without getting a sunburn.
Education & Certification
Undergraduate Degree: University of Kansas - Bachelor of Science, History Teacher Education
Test Scores
ACT Composite: 35
ACT English: 35
ACT Math: 34
ACT Reading: 36
ACT Science: 33
AP Chemistry: 4
AP Statistics: 4
AP US History: 4
AP Environmental Science: 5
AP U.S. Government & Politics: 5
AP Art History: 5
Hobbies
I enjoy reading, board games, plants, arts and crafts, hiking, art history, and baking.
Tutoring Subjects
ACT Aspire
ACT Residual
ACT Study Skills and Organization
ACT with Writing
Admissions
AP Art History
College Application Essays
High School English
High School Government
High School Level American History
High School Level American Literature
High School World History
High School Writing
Other
PreACT
Study Skills
Study Skills and Organization