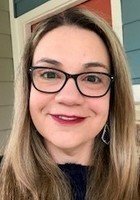 Cecilia
Certified Tutor
I went to Law School but teaching is my passion and I have been doing it for the past 20+ years; I would not want to do anything else.
Certified Texas Teacher: Generalist EC-4, Bilingual Supplemental EC-4, Special Education EC-12, LOTE Spanish EC-12, ESL EC-12. In addition to English and Spanish I also speak Portuguese. In my spare time I like to read, cook, bake and travel as much as possible.
Education & Certification
Undergraduate Degree: University of Vale do Paraba - Bachelor in Arts, Prelaw Studies
Hobbies
Reading is my go-to hobby! I also love to cook, bake and travel, especially to the beach.
Tutoring Subjects
Beginner Spanish for Adults
Conversational Spanish
Cooking
Elementary Reading and Phonics Class
Elementary School
Elementary School Math
Elementary School Reading
Elementary School Writing
Intermediate Spanish for Adults
Introduction to Spanish for Adults
Late Elementary Reading Comprehension
Learning Differences
Other
Pre-Reading Super Skills Class
Reading Comprehension Class
Reading Fundamentals: Phonics and Decoding
Spanish 1
Spelling, Grammar, and Writing Skills Class