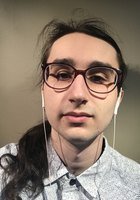 Kitt
Certified Tutor
I am a senior year Mathematics and Computer Science major with an Economics minor at Pacific University in Forest Grove, Oregon. I'm a bit of an academic overachiever. I was one of the first seven students in my high school to graduate with the full IB (International Baccalaureate) Diploma. Similarly, I've met almost all of my majors' requirements because I've taken the maximum number of credits every semester at Pacific, excluding my first one. I only need to complete my two capstones and take three more course requirements for the Computer Science degree.

I pick up analytical skills quickly and love helping people, particularly in Mathematics and Computer Science, since I pick up knowledge in those categories rather quickly. I have extensive experience assisting classmates with course material. I find it enjoyable both because I like helping others, and it allows me to find any gaps in my own knowledge and fix them.

I generally prefer to help students with areas they have some background in, rather than introducing new topics. (For example, meeting with a student after a class to help them with the material they've just covered but may not understand.) I can do the latter if necessary; however, I am less certain about my ability to do so in a way that is as consistently useful. I prefer to think of tutoring in terms of helping a peer rather than the more hierarchical framing of teacher and student. Although the latter is technically also accurate, I find it less useful. I am neurodivergent (diagnosed as both autistic and ADHD) and, as one might expect, am happy to teach neurodivergent students.
Education & Certification
Undergraduate Degree: Pacific University - Bachelor of Science, Mathematics and Computer Science
Test Scores
SAT Composite (1600 scale): 1440
SAT Math: 730
SAT Writing: 710
AP Calculus AB: 5
IB Math SL: 6
Hobbies
Interests: -Computer Science -Mathematics -Public Policy -Political Activism -Science (Especially physics/astronomy) Hobbies: -Creative Writing -Music Production -Digital Art -D&D (both as a DM and a player) -Indie Games (Undertale, Hollow Knight, Kerbal Space Program, etc.)
Tutoring Subjects
C
C++
CSS
Discrete Math
HTML
IB Mathematical Studies
Java
JavaScript
Linux
Mac Basic Computer Skills
Productivity
Programming Languages
Technology and Coding
Visual Studio