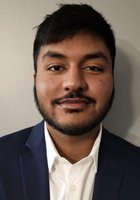 Zohaib
Certified Tutor
I'm a recent college student who graduated with a Bachelors in Biological Sciences from the University of Illinois in Chicago. Since graduating, I have been interested in tutoring students in subjects I feel confident in.
Test Scores
ACT Composite: 30
ACT Math: 32
ACT Reading: 30
MCAT: 514
Chemical and Physical Foundations of Biological Systems: 129
Biological and Biochemical Foundations of Living Systems: 130
Psychological, Social, and Biological Foundations of Behavior: 130
Hobbies
Football, basketball, anime, cooking, spending time with family.
Tutoring Subjects
Anatomy & Physiology
MCAT Biological and Biochemical Foundations of Living Systems
College Biology
High School Biology
MCAT Chemical and Physical Foundations of Biological Systems
MCAT Psychological, Social, and Biological Foundations of Behavior
MCAT Psychological, Social, and Biological Foundations of Behavior