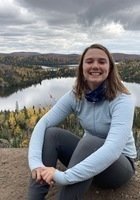 Cassie
Certified Tutor
I graduated from Luther College in the spring of 2019. I majored in Sociology with a double minor in Spanish and Social Work. I believe that every student has different learning strategies and strengths. I focus on identifying the students strengths and interests and incorporating them to make their learning interactive and enjoyable. I spent this past year working in an alternative high school, providing academic tutoring and emotional support to students. I am well versed in high school curriculum, including Pre-Algebra, Biology, US History, and Spanish. I currently provide additional support to students during this time of distance learning, including students in grades K-8. In my free time, I enjoy taking bike rides, cooking up new foods, and hammocking with friends.
Education & Certification
Undergraduate Degree: Luther College - Bachelor in Arts, Sociology
Hobbies
I enjoy spending time outside going hiking, hammocking and throwing a frisbee. Additionally, I love to try new recipes, listen to podcasts and spend time with my friends and roommates.
Tutoring Subjects
Elementary School Math
High School Biology
Middle School Writing
Music
Other
Social Sciences
Spanish 1
Trumpet