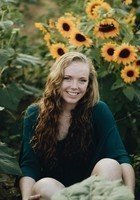 Shea
Certified Tutor
I'm a Civil Engineering major, Sustainable Communities minor at Georgia Tech heading into my second year this fall. I love tutoring most subject, ranging from US Government to Algebra. In the past, the subjects that I have tutored the most are AP US Government and Reading. My tutoring method changes depending on the student, but I love to ask questions and make comparisons to other topics to provide a multidisciplinary understanding and make connections. My philosophy is to avoid memorization and promote understanding! I feel that students have more fun this way and will be better equipped to apply this information to their lives. Outside of the classroom, I am an avid Georgia Tech football fan (we're getting better, I promise!), traveler, and recycler!
Test Scores
ACT Composite: 33
ACT English: 35
ACT Reading: 32
ACT Science: 35
SAT Composite (1600 scale): 1480
SAT Math: 750
SAT Verbal: 730
AP Calculus AB: 4
AP English Literature: 4
AP English Language: 5
AP World History: 5
AP Environmental Science: 5
AP Spanish Language: 4
AP U.S. Government & Politics: 5
AP Human Geography: 4
AP Psychology: 5
Hobbies
I love sports! Whether it's watching or playing I can't get enough. I'm also a big fan of outdoor recreational activities, especially whitewater rafting and backpacking. Professionally, my passion lies in redesigning our cities to ignite a sustainable future for all. I will hopefully be pursuing a Masters in City Planning at Georgia Tech following my Bachelor's degree.
Tutoring Subjects
Elementary School
Elementary School Math
Elementary School Reading
Elementary School Writing
High School English
High School Writing
Middle School Reading
Middle School Reading Comprehension
Middle School Writing
Other
Social Sciences
Study Skills
Study Skills and Organization