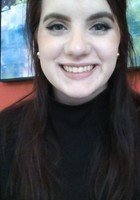 Elle
Certified Tutor
Hey there! I'm Elle! I love tutoring students to get them better prepared for whatever they want to learn more about! I excel in English, Writing, and Literature but, I also enjoy tutoring other subjects! I like to make sure that my tutorees are learning concepts and strategies they can apply on their own so they can work individually in the future!
Education & Certification
Undergraduate Degree: Hamline University - Bachelor in Arts, English
Hobbies
Writing stories, reading fantasy novels, and playing video games!
Tutoring Subjects
American Literature
Audition Prep
College English
College Level American Literature
High School English
High School Level American Literature
High School Writing
HTML
Java
Linux
Mac Basic Computer Skills
Middle School Reading
Middle School Reading Comprehension
Middle School Writing
Music
Music Theory
Other
PC Basic Computer Skills
Piano
Singing
Social Sciences
Study Skills
Study Skills and Organization
Technology and Coding
Vocal Training
Voice