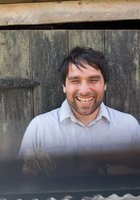 George
Certified Tutor
I have over 8 years of international teaching & tutoring experience. I have taught students from age 5 to 55 in all major academic subjects. I am bilingual in Spanish and have done translation work with the Peruvian Consulate.

I have 6 years previous work with special needs (autism, adhd, dyslexia, odd and etc.) students and helping them and their families meet academic goals.

I am currently a lecturer at The Global Center for Advanced studies in Religion, Philosophy, Ethics, and Materialism.

I work to the students needs and at their personal comfort levels, I work with the students/parents to set viable goals ad a long-term strategy to achieve academic goals. I believe the way to do this is create a safe space where the student can be themselves, and use my skills and humor to enable the student to complete their assignments & goals.

I am confident I can meet your academic needs and goals. I look forward to working with you to meet your potential!
Education & Certification
Undergraduate Degree: California Baptist University - Bachelor in Arts, Theology
Graduate Degree: University of Staffordshire - Master of Arts, Sociology
Hobbies
Rock-Climber, Hiker, Extreme Sports, Writing, Poetry, Comedian, Actor
Tutoring Subjects
Adult Literacy
American Literature
College English
College Level American Literature
Conversational Spanish
High School English
High School Level American Literature
High School Writing
IB Philosophy
IB Social and Cultural Anthropology
IB World Religions
Middle School Reading
Middle School Reading Comprehension
Middle School Science
Middle School Writing
Philosophical Ethics
Social Sciences
Spanish 1
Spelling Bee