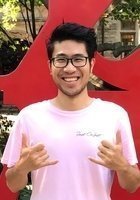 Tony
Certified Tutor
I graduated from George Washington University and received my Master's Degree in Computer Science. I started tutoring during my sophomore year in 2011, and for four years I was employed by New Oriental Education & Technology Group Inc., the biggest training company in China. In 2014, I started my own business in China. I have been teaching for almost seven years.

I teach Test Prep, including ACT Math, SAT Math, Algebra 1, Algebra 2, Geometry, TOEFL, IELTS etc. I am obsessed with teaching Math because I think its all about logical thinking, and I enjoy showing others that it can be easy to conquer any Math problem. Math makes us smarter every day. Most importantly, tutoring Math is the fastest way to track a students progress, and its pretty obvious if a tutor and a student can work together very effectively.

My teaching philosophy is made up of just four simple words: Love, Motivation, Fun, and Strategy. The first step in leading students is to help them love the subject. Education is not all about teaching knowledge and skills. The most important thing is to enjoy learning and help them shape their academic future. When students love a particular subject, they will be motivated to put in more time and effort on this subject. Most of the students I taught before all struggled with academic subjects, especially Math. Most students think Math is boring, hard, or even scary, but I make my class more fun by getting them to engage in the learning process. Parents and students are happy to see their academic progress, especially in timed Test Prep. Having a good understanding of strategic methods is crucial in helping students do well on their exams.

My hobbies are pretty wide and include listening to music, hiking, and working out. I also enjoy playing volleyball, table tennis, and badminton.

I am confident that if you work hard in the right way, you will definitely make great progress!

I am looking forward to working with you guys!

Education & Certification
Undergraduate Degree: Changchun University of Science and Technology - Electrical Engineer, Computer Science
Graduate Degree: George Washington University - Master of Science, Computer Science
Hobbies
Music, Hiking, Design, Coding
Tutoring Subjects
AP Computer Science A
AP Computer Science Principles
Basic Computer Literacy
C++
College Computer Science
Computer Programming
Conversational Mandarin
CSS
High School Computer Science
HTML
Java
Linux
Mandarin Chinese 1
Mandarin Chinese 3
Mandarin Chinese 4
Microsoft Office
SQL
Technology and Coding