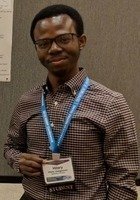 Hilary
Certified Tutor
I am a college physics major with dreams of someday becoming an astrophysicist. During the latter part of my high school career, I discovered a passion for learning about and communicating disciplines of science and mathematics - more specifically, physics and mathematics. I have since then decided to major in Physics B.S. at the University of Houston's College of Natural Science and Mathematics.

I have been tutoring for about 4 years now and I have seen great success with my students. I first began tutoring while in high school by helping some of my friends in Advanced Placement math and science courses such as AP Calculus and AP Physics. Since then, I have tutored students ranging from elementary school students to college seniors. The courses I have tutored in have extended from elementary math and science, to high school algebra, college algebra, geometry, trigonometry, calculus, algebra-based physics, calculus-based physics, and chemistry. I prefer one-on-one, location-based tutoring, but online tutoring is also a pleasant option. I tend to re-teach my students the relevant concepts with respect to the course or homework problem the student is currently engaged in. In this way, I can differentiate the concepts the student has already grasped from the concepts the student still struggles with.

I am also an avid astronomer and astrophotographer. Two years ago I helped found the Astronomy Society at the University of Houston (ASUH), an organization founded to provide an environment where the University of Houston community and its neighbors can learn about the sun, moon, stars, planets, comets, galaxies, gas, dust and other non-Earthly bodies and phenomena. After my undergraduate career, I aspire to study graduate-level physics. Outside of mathematics and science, some of my loves include irony, humor, heartfelt friendship, basketball, rationality, eloquent books, eloquent people, stargazing, and the freedom to be an individual. I feel astronomy brings us a clear awareness of our place in the universe and challenges us to deal more carefully with each other and with the place we call home.
Hobbies
Stargazing (with binoculars and telescopes), debating, basketball, reading, eloquent discussions, etc
Tutoring Subjects
College Physics
High School Physics
Other
Study Skills
Study Skills and Organization