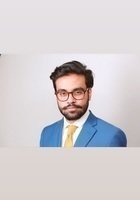 Jamil
Certified Tutor
I have always been an avid enthusiast of Economics, History, Humanities, International Relations, and Literature. My interests in these subjects have shaped my world views and intellectual aspirations. I graduated with a Masters in Economics & Strategy for Business from Imperial College London. I have a BA in History and a BS in Criminal Justice from John Jay College.

I have extensive experience in teaching/tutoring individuals and groups in subjects ranging from Science, Math, Art, and English. I am a very patient person and understand the various difficulties in grasping an idea and am willing to go above and beyond to find the right method in order to overcome a situation that my student is faced with.

My teaching methods varies with different individuals. I like to approach situations that is the best for my student. My key skills in communication, adaptability, along with an engaging personality and teaching style, our tutoring session will be exemplary.

Some of my hobbies include filmmaking, guitar, ukulele, watching classic movies, museums, and picnics. I look forward to utilizing my skills and knowledge to help shape the coming world.
Hobbies
Guitar, Ukulele, Filmmaking, Museums, Picnics, Classic Films, Traveling, and Fishing
Tutoring Subjects
African History
African-American History
American Literature
Ancient and Medieval Heritage
Business
CLEP Prep
CLEP Western Civilization II: 1648 to the Present
College Application Essays
College Economics
College Level American History
College Level American Literature
Constitutional Law
Elementary School
Elementary School English
Elementary School Science
GED Reasoning Through Language Arts
High School Business
High School Economics
High School English
High School Level American History
High School Level American Literature
High School Political Science
High School Writing
International Business
Law
Management
Middle School Reading
Middle School Reading Comprehension
Middle School Writing
Other
Political Science
Social Sciences
Study Skills
Study Skills and Organization
US Constitutional History
World Civilization