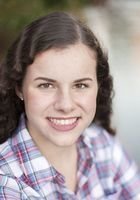 Alexa
Certified Tutor
I am an undergraduate student at the University of Rhode Island with three years of formal tutoring experience. I have 4 younger siblings, and growing up I would help them with homework once or twice a week. During high school, I started getting paid to tutor other students. I tutored in a range of subjects, including American History, introductory Spanish, Geometry, Algebra I and II, Language and Literature, Biology and Chemistry. My experience has helped me develop effective communication skills, and I am comfortable explaining concepts in new and different ways to help suit the needs of an individual student. During my senior year of high school, I worked exclusively with a student who had ADHD and several learning disabilities. This experience improved my tutoring skills and taught me specific strategies for helping students with learning disabilities.

Currently, I am in the Honors Program at my undergraduate institution and I am taking advanced courses. I am majoring in Biology, so I have a strong science/math background. However, I have also taken a variety of Honors history and literature courses and I am happy to tutor in any area.

Tutoring has been a very fulfilling experience for me. I enjoy helping students master complicated topics and achieve their academic goals. I am professional, calm, and patient. I am comfortable working with students of all ages and in most subjects, and I am happy to accommodate your needs. Feel free to contact me for more information about my qualifications, or schedule an appointment.
Education & Certification
Undergraduate Degree: Emmanuel College - Bachelor of Science, Biology, General
Test Scores
SAT Composite (1600 scale): 1560
SAT Math: 770
SAT Verbal: 750
SAT Writing: 790
Hobbies
yoga, hiking, writing, swimming
Tutoring Subjects
Elementary School Science
High School Level American Literature
High School Writing
Middle School Reading
Middle School Reading Comprehension
Middle School Science
Middle School Writing