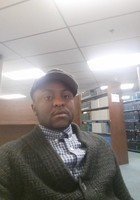 Richard
Certified Tutor
I am a graduate Chemical Engineering student currently pursuing my MSC at Texas A&M University, Kingsville, Texas. I received a Bachelor degree in Chemical Engineering at Obafemi Awolowo University in Nigeria. I have a long tracking record in tutoring and mentoring which started in 2012.

At the moment, I am a teacher's assistant as well a laboratory personnel with the Department of Physics, where I mentor freshmen college in college physics and I also coordinate their laboratory sessions. In addition, I am currently the tutoring coordinator for National Society of Black Engineers where we assist students to push for academic excellence.

In the past, I have worked at Homaj Secondary School, Nigeria for about 2 years, where I was an instructor of Sciences that includes Physics, Mathematics and Chemistry. My incessant passion for Physics and Mathematics helped me to groom and mentor the class of 2012 in this school to break a state record of the "school with the best results in science subjects."

With all these victories and landmarks in tutoring, plus my personal experience in education, I appreciate the incredible impacts that mentors and instructors have on the lives of student. I have always been a great role model for my students because I strive for greatness and academic excellence in all I do.

My skills include: excellent communication, great human relation, good listening ability, and problem solving skills.

Education & Certification
Undergraduate Degree: Obafemi Awolowo University Nigeria - Bachelor of Science, Chemical Engineering
Graduate Degree: The Texas AM University - Master of Science, Chemical Engineering
Hobbies
playing soccer, meeting new people, travelling, reading
Tutoring Subjects
Chemical and Biomolecular Engineering
Discrete Math
High School Physics
Thermodynamics