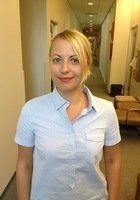 Anna
Certified Tutor
I am a professor in political science at North Carolina Central University and have spent the past 10 years teaching and mentoring students with a variety of academic interests and from diverse backgrounds. Nothing makes me happier than helping students achieve their goals and learn new things. I have been committed to education my whole adult life and I am excited to offer my help to all those interested. I received my PhD in political science from UNC-Chapel Hill in 2012 and a BA in political science and history from the University of Florida. I tutor a wide array of subjects in the social sciences and humanities, with a particular focus on comparative politics, writing, and statistics. The study of politics has always been my passion for as long as I can remember. Statistics, on the other hand, was a bit of a struggle, but I persevered and am now an expert in the field. Given my own uphill battle with the subject, it is now one of my favorite areas to tutor I have a great deal of sympathy for anyone struggling with stats, but I promise that I can help you! I have spent a great deal of my time traveling through Europe and have conducted fieldwork in Spain, France, Hungary, and Italy.

Education & Certification
Undergraduate Degree: University of Florida - Bachelor in Arts, Political Science and Government
Graduate Degree: UNC-Chapel Hill - Doctor of Philosophy, Political Science and Government
Hobbies
In my spare time, I enjoy hiking and kayaking, as well as reading old Hollywood crime fiction and anything by modern British authors, (e.g., Graeme Greene, Evelyn Waugh, Somerset Maugham).
Tutoring Subjects
American Literature
AP Comparative Government and Politics
College English
College Level American History
College Level American Literature
College Political Science
College World History
High School English
High School Level American History
High School Level American Literature
High School Political Science
High School World History
High School Writing
Political Science
Social Sciences
Technical Writing