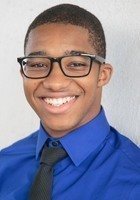 Joshua
Certified Tutor
Currently a Senior at the University of Central Florida pursuing a double degree in Business and Acting with a 3.8 GPA.

I have always enjoyed learning and teaching math and other subjects to students, friends, and siblings. I believe that learning can and should be fun, it's all about how you look at it. I am an outgoing, determined, and hard working individual who believes that together anything is possible, we just have to be courageous enough to ask for help sometimes.

I enjoy playing Xbox and exploring the outdoors in my free time. I cycle from time to time and love to be in the company of others. I'm really easy to work with and like to think I am fun to be around. I think jokes are necessary every now and again in life because smiling really does help improve happiness and health.

My Personal Mission:
With hard work, persistence, and a little bit of humor, I will strive to positively impact the lives of others with support, respect, and determination.
Test Scores
ACT Reading: 33
Hobbies
Video Gaming, Superhero comics/tv/movies, Reading, Biking, Acting, and Exploring.
Tutoring Subjects
Basic Computer Literacy
College Application Essays
Elementary School Math
Microsoft Excel
Microsoft Office
Other
Technology and Coding