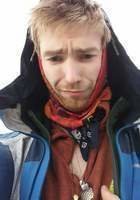 Connor
Certified Tutor
As an eternal student, I love the challenge that a dynamic and innovative work environment provides. I am constantly learning and investing in my knowledge and abilities, because that is how I thrive best.

I am excited that we are utilising the latest mediums of communication that have reimagined how we humans connect.

I seek to further my proficiency as a mentor, to reach a larger and more diverse group of people than I have in the past, and to make a meaningful impact in the lives of those around me.

Hobbies
Fire-spinning, climbing, alpining, motorsport, photography, surfing, skating, writing, reading, computer strategy games, music, guitar, F1, kart-racing
Tutoring Subjects
American Literature
College English
College Level American History
College Level American Literature
High School English
High School Level American Literature
High School Writing
Life Sciences
Middle School Reading
Middle School Reading Comprehension
Middle School Writing
Social Sciences
Spelling Bee
What is your teaching philosophy?
I have found that many modern teaching methods allow for what I call "rapid retention" of a learning topic, but never materialize into knowledge that is valuable longer term. I am a firm believer in the Socratic method, because it challenges both instructor and student to interact with the challenge on hand in a way that both people are enriched permanently, and retain the lessons learned longer term.
What might you do in a typical first session with a student?
I would first love to find out more about my student and the teachers they have loved/been challenged by, so that I can start to understand what type of learner my student is. Once I understand how my student best learns, I can adapt my lesson plans and my approach to the material on hand.
How can you help a student become an independent learner?
ENABLE. EMPOWER. EDUCATE. My Socratic method of teaching, most of all, is what leads a student to independence. As a tutor, that is my primary goal! Part of my brand and what makes me special is that I seek to enable, empower, and educate my students!
How would you help a student stay motivated?
I have been discouraged many times, and that is what makes me, as a tutor, actually relatable to my students. Things don't always come easy. Tutors may breeze through material and make it look easy, but that is so frustrating as a student! I understand that crucial point, and relate to my students on a more core level. Furthermore, constant positive feedback is paramount to motivating my students.
If a student has difficulty learning a skill or concept, what would you do?
Break down the skill or concept to even more elementary pieces and building blocks. I will, and have, gone to the figurative and literal molecular level if need be. Oftentimes, tutors "assume" that a student is familiar with a concept, as if it were a prerequisite. Not I.
How do you help students who are struggling with reading comprehension?
As someone with a lot of public speaking experience, I understand that changing my intonation, meter, and cadence are oftentimes enough to address reading comprehension. It is part of the process of encouraging the student to take the time to digest what they are reading and to interact with it in a different way. How I read to students has an immediate result in this regard.
What strategies have you found to be most successful when you start to work with a student?
The Socratic method of teaching, as well as involving a healthy amount of humor and energy into what I am doing. Once I make my student forget that we are doing "homework", I've got them!
How would you help a student get excited/engaged with a subject that they are struggling in?
My own enthusiasm, as well as my natural curiosity, are contagious. Beyond that, making an "impact" statement - how the curricula may be important to the student later on in life - is a good way to engage the student.
What techniques would you use to be sure that a student understands the material?
Constant understanding checks are necessary, and the way I like to do this personally is by asking the student to explain the material to me without making it sound like a test.
How do you build a student's confidence in a subject?
The understanding checks that I perform are a great confidence booster, especially when combined with how positive my sessions are.
How do you evaluate a student's needs?
The initial meeting with my student is of primary importance - I work quickly and ask many questions to establish where the student's learning experience has gone awry, and why. What individuals/personality types/teaching methods have been effective in the past? Where does the student feel strong, or weak? To what causes are these strengths or weaknesses attributed? These are all answers I get in the first 5 minutes of speaking with a student.
How do you adapt your tutoring to the student's needs?
Every student is dynamic, and that is why I excel as teaching, and love it. All of my professional experience has been in dynamic environments with diverse people. Having studied this in psychology at university, I focus on every style of learning with each student -- an effort to "build those muscles" -- so that when they encounter that teaching style, they can better absorb the material. When a student is having difficulty with a concept, I shall appeal to their dominant learning category. That said, I invest in each of my student's learning styles.
What types of materials do you typically use during a tutoring session?
This depends on my student, but typically pen and paper until I have to break out the bigger tools! I have a well-tooled work space and am spoiled for choice when necessary.