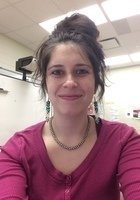 Brittany
Certified Tutor
Hi there. I have a Bachelors in elementary education and am endorsed in special education, math, science, social science, and language arts. I hold a Learning Behavior Specialists degree (LBS1). Currently, I teach 3rd-5th grade special education in Gurnee School District 56. It is my second year here and I work with students who have learning disabilities as well as behavioral/ emotional disabilities. Prior to that, I taught a reading intervention program in Waukegan for middle schoolers. I was an aide in Deerfield School district for students with severe autism in a Life Skills classroom for 2.5 years. I student taught in a 2nd grade placement, followed by a 4th grade placement in Buffalo Grove. I have tutored before and I love to develop connection and build positive relationships with the students I teach.

I have an endorsement in math. I have taken many classes on math theory. More importantly, I currently teach math to special education students and have many techniques and strategies I use to help students to succeed and understand math. I use manipulatives, various application on the IPADS, real life situation, visuals, and many other strategies to encourage and help to develop math skills.

I am endorsed in language arts. I love teaching language arts because there is such a wide array of resources available to students. I think reading is the foundation for all other subjects and I am very invested in making sure students have foundational skills to carry. With English, there are many components such as phonics, vocabulary, spelling, comprehension, and grammar (to name a few.) Through my experience, I have gained knowledge in how to deliver research-based practices to help children to be good readers.

As stated above, I have had over 5 years of teaching experience. I love to work with students and having a special education background really helps me to relate to students who do face learning difficulties. I am patient and responsible. I am reliable and children seem to really trust me. I am also endorsed in multiple subject areas.
Hobbies
Hanging out with my family/ friends, watching TV, reading
Tutoring Subjects
Elementary School Math
Elementary School Reading
Middle School Reading
Middle School Reading Comprehension
Middle School Writing
Other
PARCC Prep
Study Skills
Study Skills and Organization
What might you do in a typical first session with a student?
In a typical first session, I would give my student information about me. I would tell them about my hobbies, interests, and family. More importantly, I would want to learn about THEM (the student). I would want to see what motivates them, what subjects they enjoy, what subjects they struggle with, etc. I might also provide a fun little survey that they can take so I can get to know them.
How can you help a student become an independent learner?
I think that you can help a student to become an independent learner by teaching them/ modeling the concept first. You then have them practice the skill with you. Finally, you allow them to have independent/ individual practice to give them confidence to complete the skill independently.
If a student has difficulty learning a skill or concept, what would you do?
I would use hands-on techniques and strategies to make the concept clearer. For example, I might use a mini-clock if discussing how to tell time. I might use base 10 blocks for teaching place value. If I was teaching fractions, I might have the student create a "pie/ pizza" and have slices cut equally. I would use these pieces to model how fractions work. Allowing students to use manipulatives/ hands-on strategies is the best way to allow for understanding.