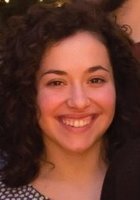 Brittany
Certified Tutor
After graduating from the University of Vermont last June with a B.A. in History (concentration in European) and English, I looked forward to any opportunities that would allow me to utilize my passion for these subjects in combination with my love of connecting with others. Thus, after number of years spent experimenting with part-time positions, including volunteer work for multiple non-profits, being a trip leader for international students, multiple restaurant jobs, interning for the Bernie Sanders Campaign, working as a jack-o-lantern artist and live pumpkin carver, I naturally began my foray into tutoring!

My teaching style, developed over time from my experience back in high school as a tutor as well as my recent work as a tutor for a private company, is relaxed, empathetic, encouraging and personable. I truly believe there is something valuable and exciting to be found within even the most "boring" of academic subjects. I see this as incredibly important to emphasize to my students, who may often see their school subjects as uninteresting or irrelevant to their lives. My goal is to help generate within my students a genuine excitement and even passion for what they're learning, through lesson plans that are organized, concise, thorough and tailored to each individual's needs.

Most of my tutoring experience has been helping early high-school students in European, American and Global History, specifically Regents subjects. My most recent lessons, for example centered around the Age of Jackson, Ancient China and Ancient Greece. In addition, I do have some tutoring experience when it comes to essay preparation, editing and writing. I was a copy-editor for my college newspaper, The Cynic, and am currently a volunteer writer/editor for a non-profit, IMM Print, which seeks to humanize immigrants within the United States' detention system, so I'm very comfortable with knowing how to produce an effective, readable and interesting piece of writing.

In my spare time, I love to hike, be outdoors, run, play guitar, listen to music, watch documentaries, bake yummy treats, hang out with my cat and do art (I have a minor in Studio Art, as well!). Another great passion of mine is traveling - I spent a semester abroad in Copenhagen, Denmark, and have traveled extensively around Europe and the United States.
Hobbies
Hiking, running, being in nature, music, animals, baking/cooking, painting, drawing... passionate about art, civil rights, the environment, traveling, good people and good food!
Tutoring Subjects
African-American History
College English
College Level American History
College World History
Conversational Italian
High School English
High School Level American History
High School World History
High School Writing
What might you do in a typical first session with a student?
In a typical first session, I like to first spend some time getting to know them. I believe that fostering a real, personal connection with the student independent of the rigid "student-tutor" relationship is key before beginning any teaching. Who are they? What do they like to do in their spare time, outside of school? Then, I would transition to getting a better feel for their feelings toward school, what they might be struggling with and what they'd like to improve. From there, we can spend the remainder of the lesson working on specifically what the student needs, whether it's working with them to create study guides and notes, giving them sample questions or helping them with school assignments. Depending on what we're working on, I may give them some brief homework to do before our next session. Based on this first session, I'll get to know the individual student in order to gain a better idea of how to structure future sessions that can be tailored to their needs.
How can you help a student become an independent learner?
My ultimate goal is to help a student become a better learner on their own. To do this, I would teach the student how to create organized, clear notes that they can study from over and over again. I would also share with them my own helpful suggestions for test-taking, and make sure to frequently encourage them and remind them of their capabilities and improvements throughout our sessions.