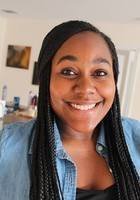 Gwendolyn
Certified Tutor
Hello! I am a recent college graduate who has always had a passion for education. I began my tutoring experiences in 3rd grade, and I have continued doing so throughout my undergraduate career. To me, education is an invaluable gift. Helping others to learn has always been something that I love to do!

In college, I became a peer educator to broaden my horizons within teaching. I held weekly workshops and classes that people in my community could attend to earn extra credit in their university-approved classes. My supervisors on the team provided consistent feedback on the clarity of my teaching, language use, and public speaking skills. Various workshops were filmed and then reviewed, giving me direct insight into areas for improvement. I take extreme pride in being able to help others learn, but it also helps me to strengthen my own knowledge on various subjects as well.

Outside of tutoring, I am a huge crafter and lover of DIY projects. I've opened up an Etsy business to share my projects and services around the country.

I look forward to working with you!
Test Scores
SAT Composite (1600 scale): 1250
Hobbies
Crafting, Reading, DIY Projects
Tutoring Subjects
College Biology
High School Biology
Social Sciences
What is your teaching philosophy?
Teaching is so much more effective when both parties have a passion for learning it, or using it to reach other goals.