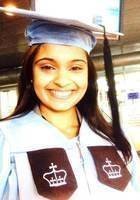 Megha
Certified Tutor
Hi there! My name is Megha, and I'd like to tell you a little bit more about myself.

I recently graduated from Columbia University, where I earned a Master's degree on a full-tuition merit scholarship. Before that, I completed my undergraduate education at Rutgers University in New Brunswick, NJ.

I love writing, reading, and argumentation, and I love teaching my students the techniques and strategies to master these arts.

I truly believe that every student has the potential to succeed and tackle any assignment or test. With the right guidance, tools, and techniques, I want to help you reach that potential.

I'm full of energy -- and I promise to keep you laughing while you learn! It doesn't feel like learning when you're having fun. I'm here to make sure that all your stress is locked away in a box while we work together to focus and hone in on your weakness and strengths.

We will work to figure out the areas where you need extra help -- and we will target them! We will also work to establish your strengths, and ensure that you are using them to your advantage.

I look forward to working with you! I'm always available for my students at the drop of a hat.
Hobbies
Reading, writing, running long distances, yoga and meditation
Tutoring Subjects
Adult ESL/ELL
American Literature
Art
Classics
College English
College Level American History
Comparative Literature
Expository Writing
GED Math
GED Reasoning Through Language Arts
GED Science
GED Social Studies
Handwriting
High School English
High School Level American History
High School Level American Literature
High School Political Science
High School World History
High School Writing
Hindi
HSPT Language Skills
Microsoft Office
Middle School Reading Comprehension
Middle School Science
Middle School Writing
Other
Political Science
Social Sciences
Study Skills
Study Skills and Organization
Technology and Coding
US Constitutional History
World Civilization
World Literature
What might you do in a typical first session with a student?
In order to attack this test correctly, we need to first hone in on strengths and weaknesses; so we would spend the first session uncovering those, and then we would set up a schedule of attack!
What is your teaching philosophy?
My teaching philosophy is that every student has it in them to reach their goals -- they just need the right techniques and strategies to get there!
How can you help a student become an independent learner?
One of my goals of teaching is that we are learning TOGETHER, as a team. We will be working together to establish your strengths and weaknesses and hone in on them. Weaknesses will become strengths, and strengths will become even more powerful. This way, you'll never feel like you can't do something on your own. I will always let you work through a problem and offer techniques and strategies in a way that you will know how to use them on your own.
How would you help a student stay motivated?
I understand that sometimes test prep or tough assignments can be defeating, but I will always believe in you -- and when you know that someone believes in you, you will continue to believe in yourself! I promise -- you REALLY CAN DO IT! I will make sure you feel capable and motivated every step of the way.
If a student has difficulty learning a skill or concept, what would you do?
I know that sometimes concepts can be tough to wrap our heads around, but many of these concepts are fundamental building blocks that serve as the foundation for additional concepts. Each concept builds on the other. It's important that we master all of it -- from the beginning. So, my take on this is that we will work together, and work hard to make sure we cover all the blind spots and troubleshoot any problems you are having. When we think you've mastered it, I will ask different and unique questions to make sure that you've mastered this concept from every angle. Moreover, I will also have you teach it to me -- because when you can teach a concept to someone else, you've really mastered it!
How do you help students who are struggling with reading comprehension?
Each student's struggle with reading comprehension is different -- sometimes students have trouble with the content or dense language, sometimes they have trouble identifying the structure of a passage and following the passage's argumentation. We will figure out what your unique trouble is with reading comprehension, and we will figure out how to solve that problem (or problems) in ways that work for you.
What strategies have you found to be most successful when you start to work with a student?
I have found that targeting, from the onset, what exactly each student's weaknesses and strengths are is very important. This way we know exactly what we need to work on -- and we can target it acutely. Once we can make our weaknesses our strengths, our fear or hesitation with the material often disappears, and we can work on sharpening and polishing our strengths, so that everything comes full circle.
How would you help a student get excited/engaged with a subject that they are struggling in?
Learning has to be fun, and it's often not fun when we're struggling with the material. I'll first make sure that your struggles are minimized -- once we work through mastering the fundamentals, you'll have a stronger handle on the test or assignment. I'll share many of the things that are fascinating and revealing about the test and assignment, and as my students get more comfortable with the material, they are also enthusiastically sharing things that they've learned and consider to be fun!
What techniques would you use to be sure that a student understands the material?
To ensure that a student understands and has mastered the material, I will have them teach it to me. I will ask questions via unique angles and perspectives to ensure that they really have it covered and know the material inside and out!
How do you evaluate a student's needs?
I evaluate a student's needs through an initial diagnostic test or an unedited draft of an assignment. This allows me to understand where my students are in the process and what fundamental concepts they are and are not familiar/comfortable with. Once we establish weaknesses, we work to find ways to target them.