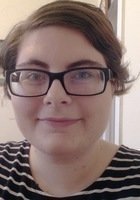 Amanda
Certified Tutor
My name is Amanda Poythress, and I've been working in the Education field for three years, now. I graduated from UCF in Orlando, Florida in December of 2013 and I've been working in schools ever since. I almost accidentally fell into education--I always thought I would use my English Lit degree to do something like editing for a publishing company (which I have done!) or writing my own novels (which I am currently working on!). I ended up substitute teaching in Florida for a few months and I found out that I was pretty good at it! There's a satisfaction that comes out of working with students, either in a large classroom setting or personally one-on-one and watching them learn new concepts or master old ones that is so satisfying.

Since moving to Chicago in 2014, I've worked exclusively with three South Side Elementary schools. I have experience working with kids from Pre-K all the way up to 12th grade, but during my long-term positions, I've mainly taught Middle School division age kids (6th-8th). While I've worked in all subject fields (and a lot of Math!), my greatest passion is English and Literature. I love reading, it's probably what I spend the most time doing. I also love writing; be it fictional composition, analytical non-fiction based on books or academic essays, or personal non-fiction essays, I love all of it. I also find myself driven to help those struggling with composition or reading find if not a love, then an appreciation for the subject that can help them later on in life.

My degree is in English Literature, and I've taken countless classes in genre and strategy-specific survey. I can analyze like the best of them, and it's my goal to help students do it too. In high school I took ten AP or Dual Enrollment classes between three years, so I understand the structure of the tests as well as how hard it is to juggle college course load on top of high school course load.

My approach to teaching is to engage, engage, engage! I don't want to just lecture to a glassy-eyed student for an hour. That's a waste of their time as well as mine. And I understand that as a student getting tutoring, you're going above and beyond your classmates when it comes to time spent engaging with Education. That's a hard thing to concentrate on! I want to make it fun and challenging, but not hard and boring. I want you to learn, to further yourself, to become the student YOU want to be. My goal isn't to bog you down with extra work, it's to lift you up to new heights of understanding.

I hope I have the opportunity to serve you, the students, and make a positive impact on this city that I've grown to love.
Hobbies
Reading, writing, music, art, history, museums, science fiction, television, movies
Tutoring Subjects
American Literature
AP English Language and Composition
AP English Literature and Composition
College Application Essays
College English
College Level American Literature
Elementary School Reading
Elementary School Writing
High School English
High School Level American Literature
High School Writing
Middle School Reading
Middle School Reading Comprehension
Middle School Writing
Other
What is your teaching philosophy?
My teaching philosophy is engagement; I want my students to really find an appreciation for the subject matter. I don't want them to have to force themselves to push through it just to get it done. I want to find a way to teach subjects that really appeals to my students and makes them excited to learn.
What might you do in a typical first session with a student?
My first session with a student will be all about learning one another. I want my students to walk away with a firm knowledge of who I am and how I teach. I also want to walk away knowing how my student learns, what their individual needs are, and how I can best serve them. I want us both to be comfortable with one another and ready to start learning!
How would you help a student stay motivated?
We would look at the skill or concept from all angles. Figure out if there's an alternative method of learning that would help them understand it. I don't want to skip a concept or just say "memorize this", if it's not going to help them actually KNOW it.
How do you help students who are struggling with reading comprehension?
We start from the ground up! If it's phonics work, sight words, flash cards, or whatever can help them with the foundations of reading, we'll do it! Another good way is to start with books or stories that have topics students are interested in or have previous knowledge of. If your student loves the ocean, it'll be easier to learn words from a book about oceanography because they're already eager to learn about it!
How would you help a student get excited/engaged with a subject that they are struggling in?
Engagement is my specialty. I know that we can link every subject to something a student is already interested in. Struggling with interest in reading, but you like video games? What is a video game but a story you have to progress through? A video game has a beginning, middle and end, just like a book. There's a protagonist and antagonist, a conflict, and a resolution. My goal is to try to link something the student loves with a subject that might be a little tough, so they can grow to love that subject too.
What techniques would you use to be sure that a student understands the material?
I like to engage in a dialogue with my students. It's less important to me that they can spew out what I've told them back to me in the same exact order. I want them to engage with me in a discussion that shows they understand the material. I want to ask questions, and have them ask ME questions. Studies have shown that rote memorization doesn't work--after the test or quiz that's being studied for is over, we forget that information and move on to the next batch. But discussion, a back and forth dialogue between the student and teacher, can actually help concepts stick in a lasting and meaningful way.
How do you build a student's confidence in a subject?
The best way I've found to build confidence is to have goals. Either build a goal chart, write a list down, dedicate a bulletin board to it, whatever way we can track progress by having concrete goals. Nothing feels better than looking at benchmarks and knowing you've met them. My students who meet their goals usually have a small celebration with me--a dance party, a cool new sticker sheet, or some other "prize" we've worked out. If your goal is to go from reading picture books, to chapter books, and then to novels, hitting each of those milestones is an important thing to celebrate, and a student knowing they've done it gives them the confidence to push through.
How do you evaluate a student's needs?
I assess a student's needs by looking at their previous work, maybe doing some easy and small quizzes or work sets to see where they're at for their chosen subject. But along with knowing where they're at academically, I have to know how they learn, what challenges or difficulties they have to overcome, and what goals we're working towards.
How do you adapt your tutoring to the student's needs?
By assessing how a student learns, and what they need to learn, I can tailor my tutoring by involving more tactile learning or moving away from the lecture method of teaching. Whichever way a student learns best, I will adapt myself to that and work it into our sessions.
What types of materials do you typically use during a tutoring session?
Depending on the subject, we can use things like textbooks, notebooks, iPads, laptops/computers, e-readers, or physical books. Highlighters, pens/pencils, sticky notes, and other accessories are also helpful! Studies have been done that state that the act of writing something down helps create new neural pathways in our brains and helps us remember material better, so students should come prepared to write as well as talk!
How can you help a student become an independent learner?
By teaching students alternate methods of study, focusing, and organizing, we can help them learn to rely on themselves when it comes to self-motivation and independent learning.
What strategies have you found to be most successful when you start to work with a student?
Being open, honest, and forthcoming seems to be the best strategy for me when it comes to working with a new student. I want them to feel comfortable with me and secure that I am 100% there for them to help them succeed, however I possibly can. Building a rapport is so important. Trust is one of the easiest things to lose and one of the hardest to build. Approachability is always my goal with students, and I want them to know that they can always come to me with their problems and needs.