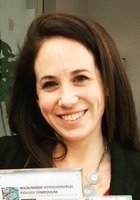 Ruth
Certified Tutor
I originally graduated with a degree in Voice Performance from Indiana University, but have since been drawn into a scientific career path. I graduated with a second bachelor summa cum laude in Biological Sciences from City University New York, Baruch College where I also performed microbiology research. I am currently a PhD student in the Pharmacology and Molecular Sciences Dept at Johns Hopkins University. My academic journey has taken me far and wide because I believe in allowing my passions to guide me. My dynamic background has given me myriad opportunities to work with students at all levels. I have taught voice and violin lessons to students 5 years of age to adult, as well as tutored biology and chemistry at an undergraduate and high school level.

I know that the path to truly understanding a subject can be bumpy and frustrating. However, if I can help inspire enthusiasm in the topic, then together, we can work through, understand, and solidify concepts. In order to accomplish this, I believe in exercising creativity to attack a concept from as many angles as needed. Learning should be fun! I'm here to make that possible.
Test Scores
SAT Composite (1600 scale): 1430
GRE: 330
GRE Quantitative: 165
GRE Verbal: 165
Hobbies
Singing, running, biology research
Tutoring Subjects
3rd Grade Science
4th Grade Science
5th Grade Science
6th Grade Science
7th Grade Science
8th Grade Science
Cell Biology
College Biology
Elementary School Science
General Biology
High School Biology
High School Chemistry
Middle School Science
Music Theory
SAT Subject Test in Biology E/M
SAT Subject Tests Prep
What is your teaching philosophy?
To assess the needs and learning style of each student to create an efficient learning experience, but also, let's make it fun!
What might you do in a typical first session with a student?
I would discuss your overall goals and what you feel least confident about regarding subject material. I would also like to find out what material you enjoy and connect with most in order to understand your learning style.
How can you help a student become an independent learner?
Once we work together to find the tools that aid learning in the most effective way, we can work on applying these tools so that you can study more efficiently on your own. For instance, we can practice creating mnemonic devices or drawing visual aids.
How would you help a student stay motivated?
Studying can be frustrating sometimes, but also incredibly rewarding. If we create smaller goals, the reward of meeting them and making progress will make you feel confident and motivated.
If a student has difficulty learning a skill or concept, what would you do?
There are many angles to approach learning a concept. I would help you to see the problem or concept in a way you have not considered it before.