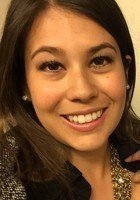 Stephanie
Certified Tutor
I am an educator with three plus years of experience teaching and tutoring. My educational background is in Spanish language and culture. I studied Spanish for eleven years, including studying abroad in Spain. I graduated from American University with a Master's degree in Latin American Studies. Since graduation, I have utilized my Spanish skills in my professional work - translating, interpreting and teaching Spanish. My last job was at a public high school in Louisville, Kentucky, where I worked with English as a Second Language students. I provided supplemental instruction in all core subjects, but the one I enjoyed the most was math (all math classes).
This summer, starting in August 2016, I will be the Math Paraprofessional at a Denver Public Schools high school. I am very much looking forward to this new opportunity!
In my personal life, I enjoy being out in nature. I like hiking, biking and taking my dog to the park. I'm excited to see all that Colorado has to offer year-round!

Test Scores
ACT Composite: 25
Hobbies
Outdoor activities - hiking, biking, walking my dog.
What is your teaching philosophy?
I believe that every student is capable of achieving his or her goals. My experience as an educator has been, that with enough instruction, encouragement and patience, students can do well in all subjects. I delight in seeing young people gain the confidence they need to succeed academically, but also seeing that confidence reflected in their personal growth. When I work with a student, I try to get to know him or her so that I can build a good rapport with the student. I know that students are more likely to work well with a teacher or tutor when there is a mutual trust and respect. Often, young people just need to be heard.
What might you do in a typical first session with a student?
In the first session, I would ask these questions: -what are your goals for this class? -what do you see as the biggest problem areas in this subject? -do you need more help with homework or to prepare for quizzes/ tests? Then I would have the student work on homework or show me classwork and explain how to go about solving a problem and/or doing an activity. I would observe, in order to gauge his/her level of content knowledge and where problems arise. From there, we could make a plan of what and how to study together.
How can you help a student become an independent learner?
I can help a student become an independent learner by encouraging them to keep studying on their own. You can take notes, study your notes, make flashcards, quiz yourself, look for online resources... there are a lot of ways of going about it.
How would you help a student stay motivated?
To stay motivated to have to have a goal in mind - is it to get an A on the test? An A in the class? Is it to prepare for the next grade level or even for college? I can remind students of what their goal is and let them know that whatever their challenge is now, overcoming it means getting closer to that goal.
If a student has difficulty learning a skill or concept, what would you do?
If the way that I am teaching something is not clicking with a student, I would do research on it, trying to figure out what other methods there are. Sometimes it helps to give a student a visual. For example, students often have a hard time understanding negative numbers. But when I draw a number line, it makes more sense to them.
How do you help students who are struggling with reading comprehension?
I would definitely encourage students to read more (reading for pleasure too) in order to improve their reading comprehension. While tutoring, though, I would have a student read a passage at least twice (or more) if they seem to struggle. I think that re-reading something can provide a lot of clarity. If that still doesn't seem to help, I would go one section at a time, stopping to check for comprehension along the way.
What strategies have you found to be most successful when you start to work with a student?
When starting to work with students, I need to see what they understand and what they don't; what they can do with ease and what they struggle with. So I observe students doing their work and then stopping at an appropriate time to provide instruction or assistance.
How would you help a student get excited/engaged with a subject that they are struggling in?
To help students get excited about a subject they are struggling in, I would try to find something that they do enjoy about it. With Spanish, that might be a variety of things - does the student like Mexican food? Have they been wanting to travel to Spain? Do they like Hispanic actors and musicians? There are many cultural aspects that can be injected into a tutoring session. With Math, there may not be as many "fun" things but there are still real-world applications. If the student dreams of a career where math is needed, there are opportunities to talk about that career and why math is necessary for it. Regardless of the subject, I think it's helpful to reflect on what the student has already accomplished - for example "do you remember when you studied really hard for the last test and you got a good grade? Let's try to do the same thing with these standards!".