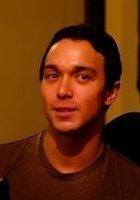 Adam
Certified Tutor
For most of my life, I've been a teacher of some sort. In middle and high school, I was an arithmetic and algebra tutor for underprivileged kids; in college, I volunteered in the math and writing centers; now, I'm teach ethics and logic classes in the philosophy department at UW-Madison. Teaching is the most important part of my life, and my role as an educator is what most defines my identity. I have no general guiding principle about teaching, other than that it isn't really useful to think in terms of such principles. Rather, I think that it's best to approach each student as having a distinct learning style and set of educational objectives, and thus, as representing a distinct set of challenges and rewards.
Education & Certification
Undergraduate Degree: Kansas State University - Bachelors, Economics
Graduate Degree: UW-Madison - PHD, Philosophy
Hobbies
music (saxophone, piano, and guitar), doubles sand volleyball, cycling
Tutoring Subjects
Business
College Economics
College English
High School Business
High School Economics
High School English
Other
Quantitative Reasoning
Social Sciences
Summer
What is your teaching philosophy?
Over the course of my teaching career, I've learned that every student has a different background, learning style, and set of ambitions. In light of this, my guiding principle is to always meet students where they stand, without judgment.
What might you do in a typical first session with a student?
In a first session with a student, my primary objective is to develop our long-term plan, so that we can set goals and measure our progress.