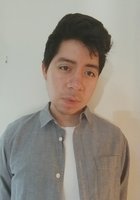 Christopher
Certified Tutor
Hello. I currently graduated from New York University. I have a BA in biology and minor in computer science. I am currently working towards getting a MD in the future. At the moment, I am currently prepping for the MCAT. I am immersed in the laboratory setting and in the process of publishing my work on developmental aspect of flies.
Since high school, I really enjoyed learning about biology and chemistry. I realized that many students struggled with concepts in these subjects. I know its very difficult to understand many of the processes either in the human body or in chemical reactions. My past tutoring experience gives me the confidence to effectively teach concepts with ease. As a tutor, I would like to understand the hurdles that the student is facing on the problem. In order to efficiently tutor a student, the student must understand the basic foundation of concept and it relates to the problem. I truly believe that all students can succeed in every subject.
I would like to have a tutoring environment that is fun and helpful for the student. Let me pass on my experience and help you achieve the scores that you want.
Education & Certification
Undergraduate Degree: New York University - Bachelor in Arts, Biology, General
Test Scores
ACT Math: 33
ACT Reading: 32
ACT Science: 31
Hobbies
Running, Tennis, Basketball, Teaching
Tutoring Subjects
MCAT Biological and Biochemical Foundations of Living Systems
College Biology
High School Biology