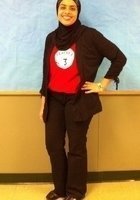 Rema
Certified Tutor
I have been an Elementary Education teacher for the past 10 years, and have worked with students of varying abilities. Teaching is my passion, and making sure that every child receives a strong education is my goal. Every child learns differently and needs time, attention, patience, and a motivation to learn in order to succeed. Every child needs individualized instruction in order to learn and be successful. It is my goal to make sure each child under my tutelage learns the skills they need to succeed. If a child is struggling with a specific subject and/or skill, I first try to discern the problem, and then help the student resolve it. I make sure to always find the right strategy and method to help the child learn and understand. I believe every child can learn and be successful in their education.
Hobbies
I like to go shopping, travel, and spend time with my son.
Tutoring Subjects
College English
Elementary School Math
FCAT 2.0 Prep
High School English
Homework Support
Other
Study Skills
Study Skills and Organization
Summer
How can you help a student become an independent learner?
Depending on the subject matter, I would teach the student strategies that would assist them in becoming an independent learner. The student needs to be motivated to learn, organized, and be confident that they know what they are doing.
What strategies have you found to be most successful when you start to work with a student?
I find that using hands-on activities and educational games motivates students. Also, the use of technology gets the attention of students and motivates them to listen and learn. I also reward my students with positive reinforcements when they do well or succeed in the learning process.
How would you help a student get excited/engaged with a subject that they are struggling in?
I would use learning games or technology to get them motivated about the subject and to check their understanding on the subject matter. Then, we would work from there to see what skills need to be worked on.
What techniques would you use to be sure that a student understands the material?
I would do a quick check/quiz to see if they understood the material. Sometimes, I play games and ask questions to check their understanding on the subject matter. For example, tic-tac-toe or hang-man.
How do you build a student's confidence in a subject?
I believe a student builds confidence if they are given time, attention, motivation, and positive reinforcement as they are learning. If the student is struggling, then we stop and work the problem out together to help them understand and find the solution.
What is your teaching philosophy?
My philosophy is that every student is different and learns in different ways. It is the teacher's job to figure out what works for that student to help them succeed and be motivated to learn.
What might you do in a typical first session with a student?
I would get to know my student's interests, hobbies, what they like about school/education, and what they are struggling in. I would also introduce myself and let the student get to know me so they are comfortable working with me.
How would you help a student stay motivated?
I would see first what motivates the student and use that to help them stay motivated as well as give them positive reinforcement/rewards as they do well on their lesson.
If a student has difficulty learning a skill or concept, what would you do?
I would first see what skill they are having difficulty with, then see if there are prerequisite skills for that skill, them make sure they know them. If not, then we would work on those skills to build on the skill.
How do you help students who are struggling with reading comprehension?
I use a variety of strategies to help with reading comprehension. I teach students to highlight text while reading to find their answers, look for keywords, use pictures, and to sound out words that they cannot read.
How do you evaluate a student's needs?
I use self assessments to see what skills the student lacks or is having difficulty with. Also, if available, I would speak to the student's parents/teacher(s) as well.
How do you adapt your tutoring to the student's needs?
I first get to know my student and their needs and then plan how to tutor/teach them. I see what motivates the student in order for them to learn and stay focused.