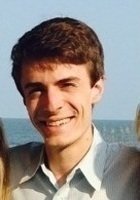 Andrew
Certified Tutor
I am a graduate of Virginia Tech with degrees in Economics and Psychology. I have a passion for learning - whether it entails academics or understanding more about the people around me - and I believe that this passion drives me to help others learn as well. While I realize that not everyone will share my natural enthusiasm for economics, psychology, or history, I am confident that I can utilize my knowledge and love of these subjects to bring them to you in a manner that is accessible, engaging, and stress-free.

Hobbies
I am an avid reader of everything from science fiction to Wikipedia. I enjoy photography, long-distance running, and discovering new art and music.
Tutoring Subjects
AP Economics
AP US History
Business
College Economics
College Geography
College Level American History
High School Business
High School Economics
High School Geography
High School Level American History
Macroeconomics
Social Sciences
US History
What is your teaching philosophy?
I firmly believe that if a subject is made more engaging and personal to a student, then the subject matter becomes less overwhelming and more open to exploration and understanding. My goal is to always emphasize the connection between the student and the subject matter, and to overcome any confusing and intimidating barriers that keep the student from fulfilling their potential.
What might you do in a typical first session with a student?
The goal of a first session would be to figure out the student's general understanding of the subject matter. Using some basic practice questions to gauge the student's knowledge and understand their underlying thought process would serve as a starting point to cater the lessons to the individual student's needs.
How can you help a student become an independent learner?
Ultimately, making the knowledge and thought processes personal and engaging to the student would help ensure the student's future independence. Exercises such as role-playing and perspective taking can help elevate a session beyond simple recitation of facts and make it something fun, memorable, and lasting.