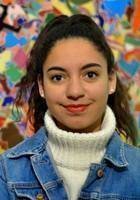 Sarah-Nicole
Certified Tutor
I am a rising senior at Wesleyan University studying French Language and Literature and Government with a concentration in Political Theory. I'm available to tutor in many subjects including English, Writing, Grammar, Literature, Essay Editing, Social Studies, European History, and varying levels of French. I am a passionate learner, eager to share this passion with students who are in need of any help whatsoever. I am especially excited to tutor students in French. I can recognize more than anyone that learning a second language doesn't always come naturally. I can understand that struggle on a personal level, but with hard work and practice, I truly believe that anyone can succeed in a foreign language! In my spare time I enjoy reading anything and everything, watching foreign films, and shopping!
Education & Certification
Undergraduate Degree: Wesleyan University - Bachelor in Arts, French Studies, Government
Hobbies
International politics, American politics, art, fashion, and film.