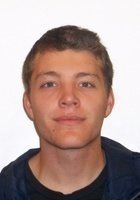 Ryan
Certified Tutor
For the past two years I worked as a tutor for American University. From this experience I built some close, constructive relationships with students. I consider myself a successful tutor because of my ability to empathize with the students and connect with them on a personal level. Consequently, this trait makes me more patient with the students. I'm excited to be a part of the Varsity Tutors team, and am looking forward to starting more constructive relationships with students!
Education & Certification
Undergraduate Degree: American University - Bachelor in Arts, International Relations
Hobbies
Catching up on current events, spending time with friends, exploring the outdoors, and playing rec basketball whenever I can!
Tutoring Subjects
8th Grade Writing
9th Grade Reading
9th Grade Writing
Adult Literacy
AP US History
Business
College Economics
College English
College Level American History
High School Business
High School Economics
High School English
High School Level American History
High School Writing
Macroeconomics
Middle School Writing
US History